Can TV become a performance channel?
Published: Jun 24th 2020 | 6 min read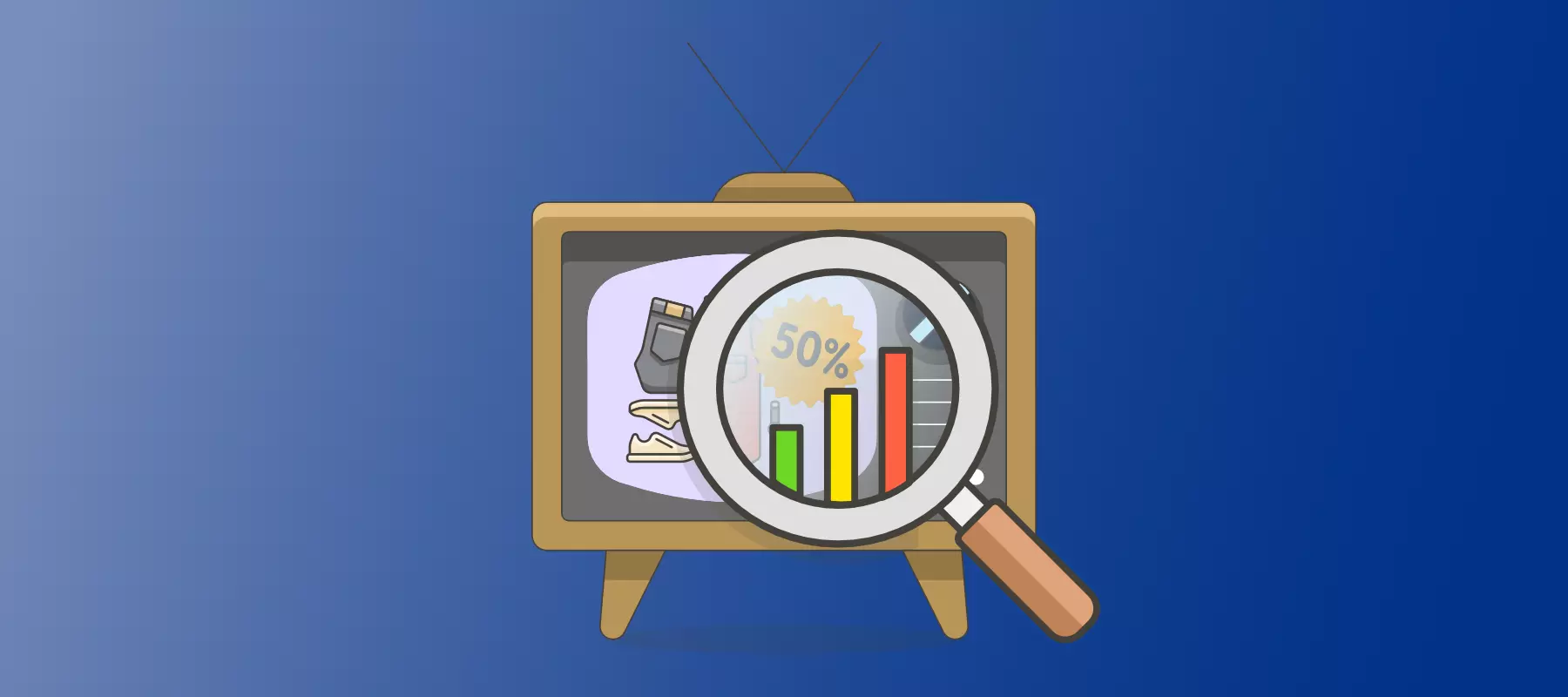 One of the goals of the performance part of a TV campaign can be to attract more potential customers and raise the website traffic, in other words, to take action. You can then target these customers via remarketing and other digital channels. Thus, TV advertising can bring new customers to your site that you haven't yet managed to reach online.
This effect can be measured as traffic on your website or the company name search results on the internet increase within a few minutes or seconds after your ad is broadcasted, compared to regular traffic.
Three-quarters of TV viewers watch their favorite show with a "second screen" in their hands, mobile or tablet, and often see advertised sites after watching ads.
It means looking at TV advertising from a different perspective - you do not want to broadcast it to as many viewers as possible but to the viewers who will respond to it.
In a regular TV campaign evaluation, you can see if several members of the target audience saw the ad, remembered it, and liked it. If you look at the broadcast spot in terms of performance, you can measure its immediate effect on all viewers by analyzing site traffic. This way, you can optimize the ad itself and its placement in the broadcast.
How?
Three complex steps can be harder to take than it might seem. Each step involves smaller steps.
Evaluate your previous campaigns
Consult with experts to increase your strengths
Test and then evaluate different TV channels
Compare different lengths and versions of spots
Split your budget into multiple sections and run your campaign one at a time
Create a clear "call-to-action" message
1. Evaluate your previous campaigns to see which channels, shows, and broadcast times delivered the highest response
Track short-term traffic increases (peaks) during the time your ad airs. You need to know the normal daily traffic first and compare it to these peaks. The advanced statistical computing and comparison of before and after campaign state uncover, which ads, showtimes, or TV channels work the best. The results can be truly dramatic. TV Ad analysis can be a very powerful tool for further investment.
2. Consult with your media agency to increase your strengths
Redistributing the budget from inefficient (cost / visit-acquisition) ads to those that drive more traffic increases ROI. Thanks to the correlation between the short-term and long-term effects of TV advertising, the marketing investment in the short-term effect of advertising will positively reflect on the brand. However, solely relying on official statistics and people meter measurements usually don't provide informative value for your campaign, sufficiently. When a million people see your ad in news, ten come to your site. The same ad that airs in the afternoon in a music show can receive 100 visits and 10 conversions. Although the first spot was predicted to have a better effect, the second spot proved to be better in terms of performance.
3. Test different TV channels or broadcast times and evaluate which were the most successful
Often the results are very surprising. Unusual formats and times can bring unexpectedly positive outcomes. Even if testing your TV ads on a focus group, it may happen that its perception will be very different from reality and larger target groups. Thus, do not be afraid to advertise, for example, cosmetics in between a show on cars, perhaps you will find that car drivers like to buy gifts for their wives and are grateful for any help.
4. Compare different lengths and versions of spots
Different spots can have dramatically different response rates. Viewers respond differently to ads placed in shows and in between two shows. Some TV spots have a significantly higher response when broadcasted after the show, and some excel when placed directly into an advertising break within a single show. There can also be a big difference if the spot is placed first, within the series of the advertisement, or as the last one.
Keep in mind that your perception of the spot will probably be different from the way an ordinary viewer understands it. You, your team, and your agency know the product or service in detail. The main testing, quantitative research, will be conducted during the broadcast. There you will be able to measure very precisely how appropriate each ad type is for the target group, whether the short or long version of the spot works better. When evaluating, consider also other parameters: day of the week, holiday, holiday in the region, championship match on another channel.
5. Split your budget into multiple sections and run your campaign one at a time to adjust the layout over time
Try to distribute your campaign in several waves, analyzing the results over time, and using the insight from one wave to optimize the next. It can help to optimize your campaign, reach higher performance, and increase ROI.
6. Significant "call to action" doubles viewer response in the form of site visits and searches
People mostly relax while watching TV. Therefore, if you want a TV campaign to be productive, your message should be crystal clear. Explicit instruction for what people should do will grow the response 80-100%. Sell ​​your old phone, buy our goods, order a service, register now! Make it easy for viewers to make decisions and tell them what you want them to do. It is much easier for them to respond to advertising. This "performance" part of the TV ad can very elegantly complement a brand-focused message. Out of curiosity, think about how many TV ads you see actually meet this rule?
Conclusion
Experiment. Measure. Evaluate. This is the only way to get the best results.
After each broadcast of the spot, compare its performance with the previous ones. If it worked exceptionally well, try repeating the constellation to see if you can replicate the success. You pay the same attention to flops. Which of the parameters had the main influence on the fact that only a few dozen visits came after the broadcast? Define, test, and turn TV advertising into a performance channel.
Start-ups that have started running TV advertising after maxing out their online marketing channels are challenging this "it is not possible" attitude. Especially e-commerce players and other online transaction-focused companies, such as online gaming companies, can track the immediate impact of a TV ad through their websites.
Evaluate your TV Ad and get the most out of with. We have analyzed many TV spots and were able to provide valuable insights to improve TV ads and support better decisions for the next campaigns. The analysis is beneficial on many different levels, and depending on the purpose of the campaign, the analysis provides valuable insights and supports better decisions for future campaigns to achieve more effective marketing and better performance.
Contact us and improve your sales from your TV spots.
Contact Us